On Saturday, I took another big step towards acclimating myself and understanding guns. I enrolled in, and successfully completed part one of the 2 part / 2 day NRA Basic Pistol Shooting Course. I took the course at the only Indoor Shooting Range in my area:
Gilbert's Guns
- a 25 lane range that is one of the largest ranges in my area where civilians can shoot. It is 22,000 square feet of shooty goodness.
( There are MANY ranges in my area due to my proximity to law enforcement headquarters of various types - FBI, CIA, Homeland Security, etc - but those are not available to the public. )
A year ago, I
wrote about my lifelong nervousness around guns.
The day after that post, I went and
shot a handgun for the first time.
It was a thrilling, liberating experience.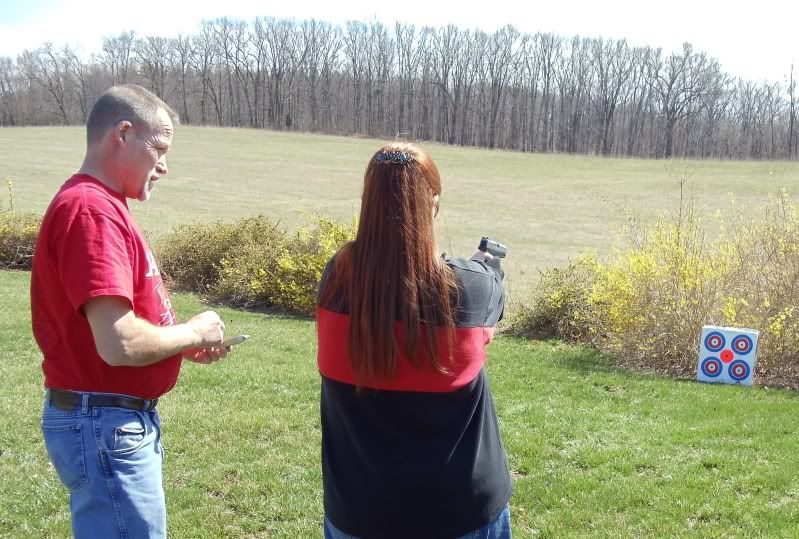 Since last year, I've whined and moaned at North periodically about wanting to take the next step in my development with guns. I've wanted to go to the local gun range and sign up for classes. A few months ago, I started reading a book about personal development and the need to shed old habits in place of new ones that will encourage personal growth. By accomplishing things on that secret "I'd really like to..." list, one can attain forward movement and as a by-product - a level of happiness and satisfaction. I made the decision. I signed up for the class.
From the
NRA.org website:
Name:
NRA Basic Pistol Shooting Course
Short Description:
Teaches the basic knowledge, skills, and attitude for owning and operating a pistol safely.
More Details:
This course is at least 8-hours long and includes classroom and range time learning to shoot revolvers and semi-automatic pistols. Students learn NRA's rules for safe gun handling; pistol parts and operation; ammunition; shooting fundamentals; range rules; shooting from the bench rest position, and two handed standing positions; cleaning the pistol; and continued opportunities for skill development. Students will receive the NRA Guide to the Basics of Pistol Shooting handbook, NRA Gun Safety Rules brochure, Winchester/NRA Marksmanship Qualification booklet, take a Basics of Pistol Shooting Student Examination, and course completion certificate. (Lesson Plan 2nd edition, 2009, 02/11)
I showed up for class on Saturday to discover my class wasn't small. There were 12 other adults, mostly my age who had signed up as well. Most of the women were like me - wanting to shed their fear of guns through handling them and understanding more about them. Most in the class had limited to no experience with guns. The instructors for my class are extremely knowledgeable, and I was instantly comfortable with one of the men's teaching style - so I gravitated towards him.
I received several books and pamphlets I'm to read this week at my leisure:
Part one focused on the classroom lecture and physically handling the multiple guns the instructors brought to the course for our examination. Of course, the first thing discussed was gun and range safety - the Golden Rules, general range specific rules, etc. Then they discussed the generic parts of revolvers and semi-automatic weapons. I was EXTREMELY pleased to have been the only person in the class to identify this part of a semi-automatic correctly:
Several of the men in the class instantly said "Clip" out loud. One person offered up "cartridge" - I said "magazine" out loud - and the instructor pointed to me and said loudly "WINNER!"
We discussed misfires, hangfires, and squibfires. During hangfires, the instructor passed around his iPad, and we watched this Youtube video of what
not
to do if you have a hangfire. As my instructor pointed out - this is proof God is equal opportunity and occasionally shows mercy to morons like this guy:
Then we physically examined revolvers and then semi-automatics up close and personal. All were loaded with dummy rounds, though we all handled the guns with extreme care, as if they were "hot" as the instructors called it.
I have really small hands
, for a woman. I found most of the revolvers relatively comfortable for my hand, and my trigger reach not too impeded by my physical limitation. This was not so for the semi-automatics. The Glocks were nearly impossible for me, and a few of the Rugers were similarly challenging for me to hold correctly and fire comfortably. It was only when I held a few of the Sig Sauers did the instructors nod and confirm these were ok for me.
Unfortunately, I forgot to bring my camera to the class, and only remembered I have a camera on my phone for the semi-automatic portion of the lesson. So I snapped a few pictures - they are a little fuzzy; skills of the photographer and limitations of the camera phone. ( There were more guns on the other side of the room - Glocks, mainly; I only took pics of this selection. )
The stainless steel gun in the picture below turned out to be my favorite - it is a Smith & Wesson 952 - one of the guns the instructor uses for competition, and of course - one of the most expensive guns in the room ( of course! ) to buy, when you can find it.
Next weekend is Part II of my class - A recap of Part I, introduction to sight acquisition and using the sights correctly, gun cleaning and care - and then finally, hands on range time.
As I wrote to a friend:
I've been nervous and skittish around guns all my life. I'm really pleased to realize that is now past tense. I confidently handled multiple guns, and know so much more than I did this morning.
I'm no Annie Oakley, and never will be. But today, I took a big step in personal self improvement, and I'm very proud of myself.
Thanks to everyone who has followed my development from "hoplophobe" to someone with a growing interest and confidence in firearms and marksmanship.